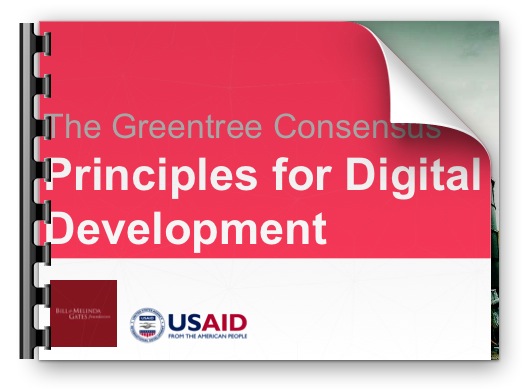 The Greentree Consensus represents a concerted effort by donors to capture the most important lessons learned by the development community in the implementation of information and communications technology for development (ICT4D) projects. These 9 Principles for Digital Development seek to serve as a set of living guidelines that are meant to inform, but not dictate, the design of technology-enabled development programs.
As USAID Administrator Dr. Rajiv Shah says:
We're not creating technology for technology's sake. There are too many apps that might look sleek, but are not transformative for the people who use them. That's why we have helped publish a set of guidelines on best practices for development programs that utilize technology.

We call these principles the Greentree Consensus, and they are built on earlier sets of principles that draw on the insight of more than 300 NGOs with expertise in the field. Representing our commitment not only to innovation, but sustainable results, we're thrilled to be launching these principles in partnership with over a dozen donors and multilaterals, including the Bill & Melinda Gates Foundation, UNICEF, the Swedish International Development Cooperation Agency, the United Nations Development Program and the World Food Program.
Swedish International Development Cooperation Agency
,
international development
,
United Nations Development Programme
,
United Nations